The world of Fintech is a dynamic ecosystem, perpetually shaped by a nexus of global forces and regional peculiarities.
In this article, we delve into the intricate interplay of international and African trends, providing insights into how these dynamics shape the African Fintech landscape.
International investment in Fintech slows
Global Fintech reached a value of $146.5 billion in 2022 and is expected to reach $942 billion by 2030, equating to a compound annual growth rate (CAGR) of approximately 26.3% for the period. However, KPMG noted how global Fintech investments in 2022 were down $238.9 billion on 2021. The number of Fintech deals also fell to 6,006 in 2022 from 7,321 in 2021. At the core of the downturn was an international inflation crisis resulting from the war in Ukraine, itself on the heels of the 'black swan' event of the 21st century, the COVID-19 global pandemic.
The cryptocurrency market also suffered a significant crash in 2022, resulting in less interest in blockchain initiatives. By Q3 in 2022, global venture funding had fallen by 34% compared to 2021. Multiple big-name players in the Fintech space also played their role: Google cancelled Plex and Meta abandoned the Diem crypto project. Other tech giants such as Apple and Amazon also reduced their Fintech ventures.
Fintech enters customer's daily lives: Embedded Finance
A fast-emerging trend in global Fintech in 2023 has been embedded finance, which McKinsey & Company refers to as, "the placing of a financial product in a nonfinancial customer experience, journey, or platform." Although this is not at all new in commerce, digital variations or interfaces thereof are on the increase. McKinsey notes how, "Open-banking innovation supported by mandates in the European Union and market-led adoption in the US, has helped unlock latent demand by enabling third-party fintech players to access consumers' banking data and even conduct transactions on their behalf". The projected surge in different embedded financial offerings between 2020 and 2025 can be seen below: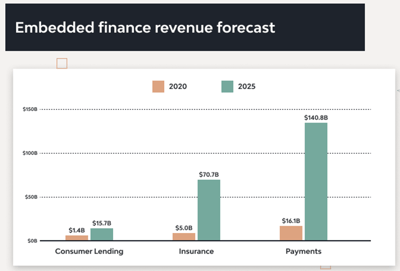 Courtesy: Django Stars
According to Paul Landless, co-head of global Fintech practice at international law firm Clifford Chance comments that, "2023 will see the fintech market consolidating, with convergence between differing digital asset players, payments providers and finance and capital markets platforms… Adoption and scale will be paramount as we'll see survival of only the fittest firms who can keep pace with the scale of regulatory change."
Cryptocurrency under increased legal and regulatory scrutiny.
That scale of regulatory change is most evident in crypto-related regulations. This oversight has become particularly urgent due to immense cryptocurrency volatilities in 2022 and into 2023. One such response has been the European Union's Markets in Crypto-Assets Regulation (MiCA), which was finally adopted by the EU in May 2023 with the proviso of bringing crypto-assets, crypto-assets issuers and crypto-asset service providers under a unitary regulatory framework[6]. In the United States, 2022 witnessed greater scrutiny of the crypto industry, with the Securities and Exchange Commission (SEC) nearly doubling its digital assets and cyber enforcement unit and the Department of Justice (DOJ) appointing its first Director of National Cryptocurrency Enforcement.
That's just the start.
The impact of global trends on the African FinTech sphere can not be understated.
But there's specific African trends that affect FinTechs profoundly - just think of the flurry of Anti-Money Laundering (ALM) legislation that we are witnessing today.
Unlock the full report to get the full view.